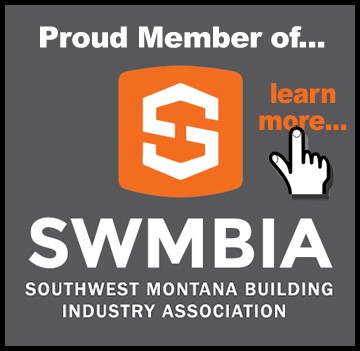 At Montana Gutter Solutions, we are proud to be affiliated with Southwest Montana Building Industry Association (SWMBIA). When selecting a gutter provider or subcontractor for your construction needs, please consider the following:
THE CORNERSTONE OF OUR BUSINESS IS PROFESSIONAL, ON-TIME INSTALLATION OF YOUR GUTTERS. Installation when YOU NEED IT—at an
affordable, competitive price.
SWMBIA members are first to be exposed to building industry products and services. We get a firsthand look at the latest products and services available in the
construction industry. The local SWMBIA organization sponsors the Parade of Homes showcasing cutting-edge building practices and construction techniques. We at Gutter Solutions are delighted to have provided gutters for 4 of the 10 homes featured in the 2016 parade.
As members of SWMBIA, we are dedicated to preserving a quality of life in Southwest Montana that is consistent with community values. Membership provides us the benefits of experience and strength-of-numbers across a vast problem-solving network. Dedicated to professionalism in the building industry, SWMBIA members include some of the best and most reliable companies in Southwest
Montana. The SWMBIA membership is not confined to builders, developers, and subcontractors. It includes retailers, financial institutions, insurance agencies, hotels, restaurants, computer-service companies, and travel agents. We are honored to be part of such a specialized group of qualified experts.
Please consider our commitment to excellence and professionalism when you choose a gutter company. When WE install your gutters, you will have the peace-of-mind knowing that your installation will be conducted by our knowledgeable, experienced team of professionals. Our success has not come by accident! We provide service unparalleled within the construction industry and we continue to PLAN for your success.
ABOUT SWMBIA
The Southwest Montana Building Industry Association (SWMBIA) is a Bozeman-based trade association representing over 10,000 residential home building and remodeling industry members. SWMBIA strives to create an environment where all Montanans have access to affordable housing. They are concerned professionals working with pride and integrity to provide the 'American Dream' of homeownership for everyone.
Mike Moore • Gutter Solutions' Business Manager
As a manager, business owner, and entrepreneur for over 30 years, Mike Moore is uniquely qualified to provide a high level of customer service and an
unsurpassed level of expertise in new construction and remodeling. Mike has been an important element of our team for the last three years. Among his many hobbies and interests are hunting, fishing, woodworking, and wildlife viewing.
Call Mike at (406) 222-0846
Email: info@guttermontana.biz
"Our customers often need immediate attention and we make sure they are taken care of promptly. My goal is to answer the phone on the first call and address our customers' issues within 24 hours. There are lots of other rain-gutter contractors out there, but that kind of service is unheard of in our industry. Our customers really appreciate it!"
DAVE SKATTUM has 25 years in construction industry and 10 years with Gutter Solutions. He lives in Pine Creek, MT,  with his wife, Laurie and son, Jordan.
JOSH SKATTUM started Gutter Solutions in 2005 as a Park High FFA
project. He has perfected installation techniques that leave our customers satisfied and our products lasting a lifetime. Shown here with wife, Lexie.
"When I started Gutter Solutions in 2005, the complaints
I often heard about other companies were:
1) The job wasn't getting done right the first time.
2) They didn't do everything they promised.
3) The products couldn't withstand Montana's harsh conditions and didn't last.
"We've worked hard to make and keep these promises. We rarely get a callback. We do it right the first time. We under-promise and over-deliver. We have products that provide long-term guarantees, many for life. We are earning our
reputation as the most reliable rain-gutter company in SW Montana."
JOSH takes advantage of the cold winter weather when we can't install gutters by getting out and shredding some powder on his snow bike or sled. He is pictured here at Revelstoke in BC on a high-performance IceAge sled wheeling out of a steep gully.
Gutter Solutions is owned and operated by Josh and Dave Skattum. As a family business, we are dedicated to being the best. We have an established policy of offering services that set our gutter company apart. Customer service is our high priority, and we have a loyal base of returning customers and new referrals.
If you have not used our services before, try us this time. We guarantee you will become another loyal customer. Call now!
GUTTER SOLUTIONS • Guaranteed for Life
2138 E. River Rd. • P.O. Box 833
Livingston, Montana 59047
(406) 222-0846
GutterMontana.biz
Email: rainguttersmt@gmail.com
Facebook: Gutter Solutions